Welcome Back. Yet again. How long has this week been for you? Too long? Of course it has. Welcome back to the Weekend. I know the hurt youve been through so just let it out. Seriously. let it all out. All weekend.
Friday:
Armin Van Buuren
Today, Friday, Oct 7 10:00p
at Mansion,
Miami Beach

,

FL
Age Suitability: 21 and up
Join us for a very special weekend, Mansion Trance Weekend 2011 with Armin Van Buuren alongside guest Jochen Miller. Armin Van Buuren Armin van Buuren has been named number one in the prestigious DJ MAG Top 100 poll four times in a row, as the first DJ in the history of the DJ Magazine and an indication of his prolific output over the more than 14 years he's been dj'ing and producing. Being the official World's Most Popular DJ is just one of his many achievements, but the driving force behind his success is an overriding passion for dance music. Armin van Buuren is one of the most popular DJ's around: voted number one twice by DJ Mag, 30 million listeners to his radioshow and worldwide gigs. His '76', 'Shivers' and 'Imagine' artist albums are award-winning, his Armada Music label is a big success and the amount of fans is still growing fast. Awards & Accolades Armin van Buuren has been named number one in the prestigious DJ Top 100 poll twice in a row, in 2007 and 2008– voted for by over 350,000 people across the world, as an indication of his prolific output over the more than 10 years he's been dj'ing and producing. Being the official World's Most Popular DJ is just one of his many achievements, but the driving force behind his success is an overriding passion for dance music. In the early days, Armin thought it was wise to have something extra in case the dj'ing didn't work out. So he studied for a law degree. The final year of his course was inevitably stretched as he juggled his studies with his increasingly hectic schedule; his rise to fame included lots of productions and remixes, as well as playing out to packed clubs every weekend. It took him three years to graduate, but his determination made him succeed!
Oktoberfest in Brickell!
Central Park Miami Brickell – 1300 South Miami Ave
FREE ADMISSION – 7:00 PM – ???
Beer Games, Live German Bands, Lederhose = 1 Traditional German Oktoberfest in your backyard!
Erick Morillo
Today, Friday, Oct 7 8:00p
at Fountainebleau Miami Beach,
Miami Beach

,

FL
Age Suitability: 21 and up
Erick Morillo LIV Friday, October 07, 2011 Erick Morillo Erick Morillo (born 1971) is a Colombian-American DJ, music producer and record label owner. Having produced under a number of pseudonyms, including Ministers De la Funk, The Dronez, RAW, Smooth Touch, RBM, Deep Soul, Club Ultimate and Li'l Mo Ying Yang, Morillo is best known for his international work in house music, in particular for the label Strictly Rhythm, and the 1994 hit "I Like to Move It", which he produced under the pseudonym Reel 2 Real, and which was featured in commercials, movies and ringtones. Morillo was raised in Colombia and Jersey City, New Jersey, where he attended grammar school at Saint Joseph's and Michael's School, a private Catholic school. He graduated from Emerson High School (Union City, New Jersey)|Emerson High School in 1989.His childhood musical influences include exposure to Latin rhythms, reggae, and hip hop. Morillo began his DJ career at age eleven, DJing on the local party circuit, and paying his dues by "spinning" at weddings for family and friends.After seeing television commercial ad for New York City's Center for the Media Arts, Morillo enrolled at the school to learn audio engineering. While working at a club in nearby Weehawken, Morillo met Latin reggae star El General, with whom Morillo became friends. The two collaborated in 1992 on the single, "Muevelo", a mixture of reggae, house music, and a sample of T99's techno single "Anesthasia". The single went platinum, and Morillo's records and remixes became familiar staples of Latin club music. Morillo decided to branch out musically, and became friends with a then-unknown singer-songwriter Marc Anthony, who introduced Morillo to his partner on the 1992 house anthem "Ride On The Rhythm", Little Louie Vega, who advised Morillo to focus on vocals.
Calle Ocho Culture
Forget Wynwood and the Design District. Leave Lincoln Road and Ocean Drive for the tourists. And let's be honest — Biscayne Boulevard and Brickell are for the suits. If you want a street that truly represents Miami's cultural lifeblood, you need to get to SW Eighth Street, better known as Calle Ocho, in Little Havana. That said, getting the culture out of Eighth Street can be a challenge, especially for those unfamiliar with the scene. Until now. Viernes Culturales/Cultural Fridays is a monthly celebration of art, dancing, food, and general revelry stretching along Calle Ocho between 13th and 16th avenues. Things get popping with live music courtesy of Sociedad Rebelde and Son Miami, among others. Catch an opening reception for Francisco Ceron at the Viernes Culturales Art Gallery , and then take in some of the usual delights: free tours of Little Havana with historian Paul George, street performers, salsa dancing demonstrations, cigar rolling and smoking, and, of course, domino tournaments with prizes.
Free, except for food and drinks
Saturday:
Carnival Weekend
Hosted By Baby Cham Performing Live
Saturday, Oct 8 10:00p
at SoBe Live,
Miami Beach

,

FL
This carnival weekend @ sobe live, serani live & direct saturday oct 8th! ladies drink free til 12am! 1203 washington ave. for more info call 305.725.3353
Category: Reggae
Andrés Calamaro
Saturday, Oct 8 8:30p
at The Fillmore,
Miami Beach

,

FL
Andres Calamaro is one of Argentina's biggest musical success stories. He broke onto the scene at the age of 17 with the band Raíces. Three years later, Calamaro was writing hit songs for Miguel Abuelo's group, Los Abuelos de la Nada, and playing keyboard with the internationally acclaimed outfit.
But that wasn't enough. In 1984, Calamaro released his first solo effort, Hotel Calamaro, an experimental blend of rock, New Wave, and pop. Though it didn't match the commercial success of Los Abuelos de la Nada, the album solidified the artist's reputation as a musical powerhouse.
Fellow Argentines Los Faulosos Cadillacs, Enanitos Verdes, and Fabiana Cantilo recruited Calamaro to produce their albums in the late '80s. He later moved to Spain and once again earned international praise with his new band, Los Rodríguez.
By 1995, Los Rodríguez was one of the biggest groups in Latin America. With three studio records under its belt, the band was playing to sold-out crowds and racking up industry awards like it was going out of style. Sadly, the group, citing financial conflicts, disbanded in 1997.
But it's 2011 now, and Calamaro is 50 years old. Last year, he released On the Rock, his 20th studio album. So after 30-plus years in the business, Calamaro is still shredding like he's 17.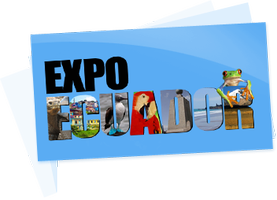 Ecuador Fashion Miami 2011
Saturday, Oct 8 8:00p
at Doubletree Miami Airport Convention Center,
Miami

,

FL
Age Suitability: None Specified
Ecuador Fashion Miami 2011 will showcase the best Ecuadorian and Local South Florida Designers. They will design a special collection for this event and create an atmosphere of luxury with attention to every detail.
Part of the sales will go to local and international charities. Help us help others!
We will have the performance of guest artists, music by our own band, prizes and more.
Be part of this magnificent event.
vs
University of Miami @ Virginia Tech
Although it is an away game, I know all of Cane Nation will be glued to the TV to see whether or not the Canes can actually pull this one off and shock the nation. After demolishing Bethune-Cookman last week, questions have come up about whether or not the U can keep this momentum up and march into Blacksburg and give the Hokies their second straight ACC upset at home. One last thing
C-A-N-E-S CANES!!!
Sunday:
Stayin' Alive
Frampton is arguably one of the only acts alive that has made a career out of a single live album, so seeing him live is like reliving the vinyl magic of "Frampton Comes Alive" (1976). More than three decades since "Alive" was released, the guitar-songwriting wizard has lost his trademark golden blonde locks – they've given way to gray and balding – but the man hasn't lost his technique. He can still get a crowd to sing along to every word of "Show Me the Way" and can switch from lead singer to lead guitarist in 0 to 60 seconds flat. Frampton's energetic performances aren't just an act. The guy lives to play music. His shows aren't cut-and-dried and usually there's some experimental guitar work thrown in to show off his incredible collection of Les Pauls
$49-$74
Miami Dolphins @ the New York Jets
Lets just hope that we get our fist win. Andd the Mark Sanchez continues to suck. That is all
Enjoy your weekend. Let me know how much you enjoyed these little events. See you next Friday.
Sources – Miami New Times, Miami Herald, miami.com